Only three of the five poker rooms in Atlantic City are currently open, and neither offers any tournaments at this time. What a bummer! But you can play poker tournaments online and maybe even parlay this activity into an opportunity to participate in the biggest and most prestigious poker competition of all–the WSOP Main Event!
Claim Your $50 Free at WSOP
1
$25 Free On Sign Up
$25 Free On First Deposit
100% up to $1,000 On Deposit
Use Bonus Code: 25FREE
When and where will the WSOP Main Event take place?
The 52nd Annual World Series of Poker will take place at the Rio All-Suite Hotel and Casino in Las Vegas from Thurs., Sept. 30, 2021 through Wed. Nov. 23, 2021. During that time, players can choose from no less than 88 bracelet events. But the one that will command worldwide attention is the Main Event. The first day of play for all entrants will be Nov. 4, 5, 6, or 7. All surviving players will then advance to the second day of play on Nov. 8 or 9, and so on.
Play will continue on the scheduled days and times until the field gets whittled down to nine players. Those individuals will comprise the final table, which will begin play on Tues., Nov. 16.
As in 2019, a huge turnout is expected
Due to the pandemic, the WSOP had to be canceled in 2020, so the last time the tournament was held was in 2019. So, naturally, after an absence of 26 months, eagerness to get the 2021 tournaments started is very high.
The 2019 WSOP set records for both participation (187,298 entries) and prizes ($293,183,345). The 2019 Main Event alone attracted 8,569 players (the largest field since 2006), a prize pool of $80,548,600, and a top prize of $10 million.
Other notable results in 2019 included, for the first time ever, 62 events with a prize pool over $1 million and 12 events with a prize pool over $5 million, as well as 12 events with more than 5,000 entrants representing more than 100 countries.
But 2021 could be the year when brand new records are set.
In anticipation of the high level of demand, CBS Sports will televise 18 of the 82 bracelet events, including a minimum of 15 hours of coverage of the Main Event.
Eligibility requirements and how to register for the 2021 WSOP
In order to attend any of the 2021 WSOP events, either as a participant or as a spectator, you must be at least 21 years old and present proof of having been fully vaccinated against COVID-19 at least 14 days prior to playing. Negative test results in lieu of vaccination and requests for exemption from the vaccination requirement for any reason will not be accepted, and no exceptions will be considered.
In addition, anyone who has had a positive COVID-19 test, or has been placed on quarantine restrictions within 14 days of the tournament, or who has experienced symptoms associated with the virus within the past 48 hours cannot attend.
Players may register and pay for the specific events that interest them either in advance online or on their mobile device or in-person at the Rio Convention Center 24/7 starting 9 a.m. Thurs., Sept. 30 until the start of the last event on Nov. 23.
For your convenience, a complete list of all of the scheduled WSOP events with the day, starting time, and entry fee is provided here.
Accommodations in Las Vegas
Participants in any of the 2021 WSOP events can reserve hotel accommodations at the Rio or any other Caesars Entertainment property in the area for a special discounted rate, subject to availability.
If you can't afford the entry fee, what other options do you have?
None of the WSOP events are cheap. Buy-ins range from $400 all the way up to $25,000. The WSOP Main event carries a $10,000 price tag.
However, many players who otherwise wouldn't be able to afford the WSOP at all manage to secure a seat via the satellite route. We recommend that you visit the WSOP.com website for more information about satellites for the WSOP bracelet event of your choice.
Or even better, if you're a registered player on the NJ gambling website WSOP.com and have your sights set on the WSOP Main Event, you might even win a free seat!
Start by logging into your account and entering the code MYSEAT2021 to receive $50 in free play.
Then take advantage of either or both of these ways to earn entries for the Sept. 29th and Oct. 7th drawings for free Main Event seats.
Earn one entry for every 10 APPs you earn in cash games.
Play in 10 BLAST games to earn one entry.
The entry earning period for the Sept. 29th drawing runs from now through Sept. 28. The entry earning period for the Oct. 7th drawing runs from Sept. 29 through Oct. 5.
The bottom line
If you would like to play in this year's WSOP Main Event and/or any of the other exciting bracelet events, time is of the essence. Also, given that the entry fees are sky-high, I strongly recommend that you attempt to get the cost down, any way you can, either via a satellite or by winning a free seat outright in a drawing.
It's still a longshot, but it's worth a try. And if doesn't work, you should still view it as a positive outcome and not a negative outcome. You can still enjoy all of the highlights of the thrilling action on TV at no cost at all and pick up some valuable pointers along the way that will improve your game significantly. Then, next year, you can think about putting your newly acquired skills to the test where they can really pay off–in the 2022 WSOP Main Event!
In Sept. 2021, DraftKings launched a new game called "Rocket." It is the 37th game that DraftKings has developed entirely in-house exclusively for its own use.
At this time, only NJ DraftKings Casino players can play Rocket. However, pending regulatory approval, DraftKings Casino players in Pennsylvania and Michigan will also have access.
Claim up to $85 free + 100% bonus up to $2,000
1
Up to $85 FREE
On Deposit. T&Cs Apply
$60 Free On Sign Up
$25 Free On Deposit
100% Deposit Match up to $2,000
To Claim: Click Play Now

Jason March, DraftKings Vice President of iGaming, expressed his enthusiasm for the new product as follows:
"By developing DraftKings Rocket, our team continues to innovate our Casino offerings as we set out to create an all-new, one-of-a-kind iGaming experience for customers. We're thrilled to be providing an exclusive iGaming experience to DraftKings customers. At DraftKings, a customer-first approach is essential to our products, and the addition of DraftKings Rocket is sure to provide a new and exciting way for customers to wager with peer-to-peer interaction."
How the DraftKings Rocket game works
Rocket is an innovative new game that DraftKings is introducing exclusively for its NJ online and mobile players.  In this article, I will do my best to describe the basics. However, the only way to fully appreciate how the highly interactive nature of this game works is to try it yourself for real money. I promise you that every trip you take on the virtual rocket (and like Lay's potato chips, no one can stop with just one) will be an unforgettable wild ride and different from anything you have ever experienced before.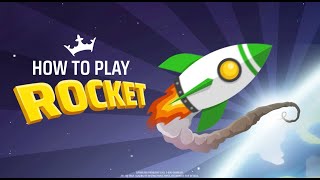 One of the reasons why Rocket should appeal to a very wide range of players is that DraftKings makes it very easy to customize the game to suit your bankroll and playing style. Everyone from small players to high rollers can enjoy the experience. Likewise, regardless of whether you consider yourself a conservative player or a risk-taker, or somewhere in between, you control what you want your risk to reward ratio to be.
Within seconds of placing your bet, you and other DraftKings players who will be accompanying you for the ride will start your virtual takeoff. As the virtual rocket climbs, so does the game multiplier. Therefore, the higher your rocket rises while you are still aboard before it comes to a screeching halt and explodes, the more you can win. But here's the catch. Timing is crucial.
In order to win your bet, one of two things must happen:
The multiplier you automatically set prior to the game as the point where you will "bailout" is reached while the rocket is still in flight, or
You "bail" on the rocket while it is still in flight to lock in the multiplier at that point.
Bet range and win multiplier options
The minimum bet is $1, and the maximum is $1,000. You also have the option to set your own auto-cashback multiplier. While the default setting is 1,000x your bet, which is the maximum payment possible, you have the option instead to play much more conservatively.
Claim up to $85 free + 100% bonus up to $2,000
1
Up to $85 FREE
On Deposit. T&Cs Apply
$60 Free On Sign Up
$25 Free On Deposit
100% Deposit Match up to $2,000
To Claim: Click Play Now

When you're ready to start a new game, you can check the numerical setting to the right of the screen and adjust the multiplier to where you want it. The starting number is 1, but while the rocket rises, the multiplier will steadily rise as well according to a preset logarithm. Assuming that the following time intervals elapse before the rocket explodes, the multiplier will go to 1.1 in about a second, 2.0 in about 12 seconds, and 5.0 in about 30 seconds. Then it will continue to get higher thereafter for as long as it can.
Keep in mind that the amount you stand to win in each game is your bet x your designated multiplier. Therefore, the higher the multiplier is able to go, the better the outcome. However, here's the catch. If the rocket explodes before the multiplier has a chance to reach the level you have locked in, you don't win a lesser amount. You lose your entire bet!
How much of a risk-taker are you?
So, the challenge you face is to decide how much of a risk you are willing to take in the hope of a big win. If having a high probability of winning even though the amounts will be small is preferable to you, then play it relatively safe and choose a small multiplier. If you have more of a "go big or go home mentality," then choose a big multiplier.
By the way, if you don't select any multiplier as your bailout before the game starts, you still have the option to do so at any point while the game is in progress. Also, the same option exists if you did select a multiplier ahead of time and you wish to change it.
This is a nice feature because at any point, your gut may tell you that you might have set the multiplier too high (or too low). The only problem is that you must act instantly. Otherwise, you could be off by even a second or two and be too late. If the rocket explodes, which could happen at any moment, you and/or any other players who are still aboard will lose.
On the other hand, if you don't select any multiplier at all, the game will use the default setting of a 1,000x multiplier (the maximum payment possible).
How much can you win playing Rocket?
The return to player (RTP) for this game is 97 percent. That is substantially better than most slot games, but even so, you need to be careful, limit your bets to what you can comfortably afford, and manage your money wisely. This is especially important with a fast-paced, highly volatile game like Rocket. Yes, the potential to win big exists, but it's a longshot, and if you're not careful, rockets won't be the only things disappearing into thin air–your bankroll could be, too!
Theoretically, Rocket could make some players millionaires. Players who bet the maximum of $1,000 and play with a multiplier of 1,000 will win $1 million if—and it's a big if–the rocket successfully reaches that level without crashing. It's possible but highly unlikely.
At the opposite extreme, you could bet as little as $1 and play with a very low multiplier (i.e., 2 or less) to virtually assure yourself of a tiny win. But after a while, the game will become boring, and you'll feel like you're wasting your time.
So, as eager as you might be to start playing this thrilling game for real money immediately, here's what I suggest instead. I strongly recommend watching a few rounds of other people playing before you start participating to get a better feel for the flow of the game.
It may take some experimenting to find the right combination of bet size and bail-out multiplier for your personal taste and bankroll.  Once you do, then you might want to utilize another optional feature that this game offers to automatically preset both the bet and multiplier for up to 50 consecutive games.
That way you can simply watch the exciting drama unfold in launch after launch without the added pressure of having to make any impulsive, gut-wrenching split-second decisions.
Claim up to $85 free + 100% bonus up to $2,000
1
Up to $85 FREE
On Deposit. T&Cs Apply
$60 Free On Sign Up
$25 Free On Deposit
100% Deposit Match up to $2,000
To Claim: Click Play Now

Special features
I have already mentioned two of this game's special features:
The option to set the machine to automatically play up to 50 consecutive games.
The ability to bail out and lock in a certain win multiplier, either automatically before the game starts or manually, while the rocket is in flight.
These two options not only enhance the adrenaline rush but give players a much greater sense of control than is possible in most slot games.  Here are some other exciting extras that help to make Rocket the highly entertaining experience it is:
You can customize the appearance of your rocket to your taste.
Each virtual rocket launch takes place in real-time. Therefore, while you can't join a game that is already in progress, you never have to wait more than six seconds to start playing.
A special chat feature lets you talk to other players, similar to what you'll find in live dealer games.
While the rocket is in flight, you can observe the point when other players bailout, which could help you with your own game.
Even if all of the players aboard the rocket bail out early, the rocket will continue to fly without passengers until it crashes. This will show you how you could have won more by staying aboard longer.
Additional thoughts: Rocket pros and cons
Rocket is not recommended for penny players since the smallest bet is $1. However, with an extremely wide betting range starting at $1 and going all the way up to $1,000, it will appeal to a very wide audience of players.
Regardless of what stakes you play for, the challenge to try to set a high enough multiplier to lock in a decent size win before the rocket explodes and leaves you walking away empty-handed has to intrigue you. Rocket is the type of game that will get your adrenalin pumping from the get-go to the finish. It is a very fast-paced game with never a dull moment.
Some reviewers worry that Rocket could be addictive and that the way it lends itself to being played over and over again could trigger a gambling problem or exacerbate it in those who already have one. I tend to agree. I would have also liked to see the option to play this game in demo mode rather than just for real money.
As with any other casino game, it is important to play responsibly, limit one's bet size to what one can comfortably afford, and avoid marathon sessions. If the nature of this particular game makes it too tempting to stray from these guidelines, you should probably not play it.
Another problem I have is with the DraftKings video emphasizing the prospect of winning $1 million. The only way you even have a chance to win $1 million is to make $1,000 bets with a $1,000x multiplier, Obviously, this is way outside the overwhelming majority of players' budgets. Also, it could take many $1,000 bets that come up empty before the player finally succeeds, if ever. Personally, I would consider risking so much money on an extremely improbable outcome foolhardy.
The final verdict: Is Rocket worth your time?
Without minimizing the importance of any of the foregoing reservations, there is no denying that Rocket is a very well-executed game with a lot going for it. Besides being highly entertaining, it includes multiple great innovative features that will keep you coming back for more.
So, if you're a NJ DraftKings player who's hankering to try a wildly exciting new game with a high RTP and high variance that's strikingly different from anything you've played before, Rocket could have your name written on it. Climb aboard and see how high it can take you.