Borgata AC Sportsbook, Horse Racing & Moneyline Book/Bar Review
NJ bettors have been waiting for years for the opportunity to be able to bet on individual sporting events legally, and in June, 2018, it finally happened.
June 14, 2018 will go down in history as the official opening day for the state's first two legal sportsbooks. One was at Monmouth Park. The other was the Race & Sports Book at Borgata Hotel Casino & Spa in Atlantic City.
Claim Your Bonus Bets Today!
$100 In Bonus Bets
After Placing Your First Bet!
Get $100 When You Bet $20!
Paid in Bonus Bets
Use Bonus Code: PLAYNJ
This review updates and replaces the earlier review on NJ Gambling Websites of the latter. A new review was necessary because there are now two Borgata Sportsbooks to tell you about.
You read right. With the June 28, 2019 opening of Moneyline, the Borgata in Atlantic City now gives players a choice of two different rooms at the resort to bet on sports.
Borgata Race & Sports Book
On Thursday, June 14, 2018, Borgata became the first Atlantic City casino to offer sports betting. On that day, the room that formerly served as the Race Book officially opened for business under its new name–the Borgata Race & Sports Book.
Much like the other Atlantic City casino-based sportsbooks, Borgata Sports & Race Book was initially intended to be just a temporary facility. The intent was to be able to offer legalized sports betting sooner rather than later while the casino worked on completing a larger, enhanced permanent sports betting facility to replace it.
Borgata now offers the enhanced sportsbook it has been promising. However, the Borgata Race & Sports Book, which conveniently takes bets on both sports and horses, but with separate windows allocated for each, remains open.
In fact, it is still the only place in New Jersey other than a racetrack where players can bet legally on horse races.
Moneyline Bar and Book
Saturday, June, 29 2019 was the day that marked the official debut of the much anticipated enhanced sportsbook called Moneyline Bar & Book.
Moneyline, an enormous space, with 40-foot wide by 11.5-foot tall LED video wall, and 17 additional 98-inch & 86-inch displays surrounding the 8,000-square-foot venue.
Adjacent to the Borgata Race & Sports Book, Moneyline Bar & Book is by far the more luxurious of the two. You can bet on and watch as many games as you wish, while you relax on ultra-comfortable sofas and armchairs and have food and drinks brought to you tableside.
However, unlike the Race & Sports Book, Moneyline Bar & Book is strictly for sports betting.
The Moneyline grand opening took place during a big day in Atlantic City. But the dual one-year celebration of Atlantic City's newest casinos–Ocean Casino Resort and Hard Rock–didn't deter Borgata from also being the center of attention.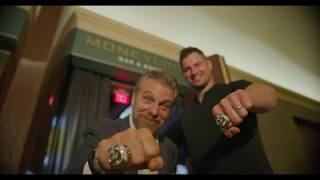 Editor's Rating – Borgata Race/Sportsbook & Moneyline
Borgata AC Sportsbook Review
Variety Of Bets/Services

Customer Service

Overall Experience

Space & Design

Convenience
Summary
Borgata now offers the enhanced sportsbook it has been promising. However, the Borgata Race & Sports Book, which conveniently takes bets on both sports and horses, but with separate windows allocated for each, remains open.
Where to find the two Borgata sportsbooks
Navigating your way around the huge Borgata casino can be confusing to a first time visitor, but you will have no trouble quickly finding the two sportsbooks.
In fact, as soon as you see one, it is impossible to miss the other since they are located next to each other, only steps away from the jitney entrance to the casino. The poker room and escalator and elevator to the Marketplace are also very close.
The main casino floor is also easily accessible, though a bit more of a walk depending on where you want to go
First AC casino with a legal sportsbook
It only took three days after Governor Murphy signed the bill allowing sports betting at NJ casinos and racetracks into law for the Borgata Race & Sports Book to be up and running. It is to this forward-thinking casino's credit that in anticipation of this huge game-changer for Atlantic City, it started preparing months in advance.
The Borgata also had a big advantage over the other Atlantic City casinos, as it was the only one with a still-operating racebook. Also, as part of MGM Resorts, it was able to fall back on its parent company's considerable sportsbook operating experience as a model.
Accordingly, as soon as New Jersey got the legal go-ahead, converting and expanding its existing book into the Race & Sports Book was a quick and seamless process.
Borgata Race & Sports Book Guide
Hours of operation
The Borgata Race & Sports Book is open weekdays from 11 a.m. to midnight and on Saturday and Sunday from 9 a.m. to midnight. However, these hours are subject to change, and betting times might be expanded as the schedule and customer demand dictate.
What the Borgata Race & Sports Book has to offer
The Race & Sports Book is an expanded version of the same room that initially existed just to take bets on horse races. Now you can pick from a wide range of both games and horse races to bet and then watch them live and do it all in one convenient place.
There is ample seating, too, so, if you wish, you can make a whole day or night of it. If you find yourself with any downtime, it will pass quickly, and you can put it to great use studying the board and doing the handicapping for the bets you will be making later.
Or, if you prefer, grab a bite to eat or play in the casino or poker room for a while, then return to the Borgata Race & Sports Book just in time to watch the game or race you bet on.
If the game or race is taking place in another part of the country, or even another part of the world, no problem. You might not be able to watch it at home, but as long as it's an event you can bet on at the Borgata, you can watch it at the Borgata!
And even if you could watch somewhere else, why would you want to when you can enjoy all the excitement of seeing all the action close-up on a large flat screen TV, in the company of other avid sports bettors on the same event?
Best of all, if you win, at the Borgata Race & Sports Book, there's no waiting to collect. You can cash your winning tickets immediately!
Borgata Race & Sports Book – Pros & Cons
What's to love
Apart from going down in history as the first place to place a sports bet legally in Atlantic City (not first in New Jersey because Monmouth Park also started taking sports bets June 14), the Borgata Race & Sports Book offers many other great features.
Space and comfort
For starters, it's a large room with lots of comfortable chairs, each with a small tabletop with room for a snack and beverage and where you can do the day's handicapping. Each seat also comes with its own computer terminal, where horse racing fans can personally adjust to whichever track interests you.
Multiple TVs display the same information, but serious handicappers will find the opportunity to study the changing odds and other important information about upcoming races indispensable.
I also think it was very smart of the casino to designate separate windows for horse racing and sports bets. This makes the lines for each shorter.
For horse racing and sports bettors alike, this room rates an A+ from me, not only in terms of the tremendous variety of bets open to you but also in regard to ample seating, a large number of TVs showing different sports programming, quick, efficient service at the betting window, and overall comfort level.
Informative handicapping aids
Another feature I liked, and so will you, is the separate stats sheet which the casino provides for different sports. Serious bettors will find this sort of information a most valuable handicapping tool, so the Borgata is being very generous offering it for free.
The only place in town to bet horses
At one time, several Atlantic City casinos took horse bets, but in 2014, with the lone exception of the Borgata, they all closed. As of this writing, Borgata is still the only place in town taking horse bets.
Lots of time to cash your winning tickets
If you're in town for the race or sporting event you bet on and you're a winner, great. As soon as the results are official, you can cash your ticket! Otherwise, no worries. You have up to six months to collect your winnings.
Comp program for horse racing bettors
Borgata Race & Sports Book horseplayers earn comp dollars at the rate of 1 percent of their bets. To be assured of earning all of the comps you have coming to you, present your M Life rewards card at the betting window prior to making your wagers every time. Ask for a free drink voucher, too.
In addition, players with a gold M Life card or higher can get a free racing program instead of paying the usual $5 charge.
Unfortunately, no comp program is currently in effect for sports bettors.
What's not to love
There is very little not to like at this sports betting facility. In fact, anyone visiting should be thrilled with all it has to offer. But I would be remiss not to mention several ways it can be better.
Offer food
One thing that is completely missing but definitely needed is food. Particularly if one is going to spend the better part of the afternoon or evening betting and watching sports, and probably downing a few beers, too, food is a must.
Initially the most convenient option was the Marketplace, which is close by, but still entails leaving the sports betting area and going downstairs. Now you have a closer spot to get food in Moneyline next door. You can either eat there or order the food to take back to the Race & Sports Book. But even so, being able to purchase not just drinks, but food right on the premises, too, would be a big improvement.
Perhaps the Race & Sports Book could offer a streamlined version of the Moneyline menu. However, for this setting, I think a simpler menu (hot dogs, burgers, etc.), with all items costing less than $10, would be a better idea.
Offer comps not just for bettors on horses, but for sports bettors, too
Obviously, winning consistently at sports betting entails some degree of skill, but so does winning consistently at horse racing, blackjack, and poker, and players still earn comps for those forms of gambling. Therefore, players who bet on sports at this casino should also be able to earn comps.
I am not suggesting that sports betting be comped at the same rate as slots. But frequent sports bettors, and especially those who make sizable wagers, deserve something in return.
The best kind of program would be one that is linked to the comp program for casino play, combining the rewards earned from each. Alternatively, at the very least, the Borgata Race & Sports Book should extend the comp program currently in effect for horse racing bets to sports bets.
Improve customer service
I was also expecting customer service to be a lot better than what I experienced, not only when the sportsbook first opened, but a year later. During my most recent visit, figuring out which line had the day's racing program (not the same line as for placing bets), where to get the scratches, and how to find the right channel on the TV monitor was a process of trial and error.
Naturally, when I visited the Race & Sports Book shortly after it opened for the first time last year I had even more questions, but because the clerks were of little help, I was given the name of someone in public relations to contact via phone and email. I did, but no response was forthcoming.
Getting definitive answers to such basic questions like what the minimum bet is and whether the sportsbook takes parlays and teasers and bets for games already in progress was like pulling teeth.
For your information, the minimum sports bet is $5, and yes, the sportsbook does offer parlays, teasers, and in-play bets. Initially, I was also given inconsistent information about the comp program. However, the lack thereof for sports bettors has been verified.
Furthermore, all the while the casino was hinting that a new multimillion-dollar sportsbook with major improvements was in the works, Borgata was not forthcoming either about what the new enhancements would be or when they would be ready.
Staff needs to be better informed about available services
Even after Moneyline opened, in response to my question about whether the old Race & Sports Book is still taking sports bets, a Moneyline employee erroneously told me that only Moneyline takes sports bets and the Race & Sports Book is now strictly for horse racing.
This is not correct.
Moneyline is strictly for sports betting, but at the Race & Sports Book, in addition to being able to bet on horse races like always, you can also make the same sports bets as at the Moneyline.
You can also cash your winning sports bets at either sportsbook.
Moneyline Bar & Book Guide
Hours of operation
Like the Borgata Race & Sports Book, Moneyline Bar and Book is open daily. According to the posted schedule, the room opens at 10 a.m. and closes at midnight. However, keep in mind that these hours are subject to change. Depending on schedules and customer demand, the room may open earlier and/or stay open later.
What you can do at Moneyline Bar and Book
Let me preface this section of my NJ online casino review by answering the question that must be on the mind of everyone who has read about this long-time $12M work in progress, but hasn't yet seen it. Is it worthy of all the hype?
The answer is yes. Not only is the spacious area serving as Borgata's newest sports betting facility visually stunning, but it offers virtually everything you would want a casino based sportsbook to be and more.
Borgata relied on the experience and expertise of its parent company MGM Resorts International for both the concept and investment for the ambitious project. According to Borgata president and CEO Mark Glover,
"Borgata's guests deserved something that would advance the market by bringing together sports, culinary, entertainment, gaming, and nightlife into a destination experience they can enjoy seven nights a week."
All the room you need to bet and watch the day's games in comfort
Forget about having to stand in a cramped space or not finding a single TV within your viewing range showing the game you bet on. This well laid out and beautifully appointed 8,000 square foot room boasts plenty of comfortable seating plus a 40-foot wide x 11 ½ foot tall LED video wall.
Whether you choose to stretch out on a cushioned sofa or armchair, enjoy the privacy of your own banquette, sit with friends at a table, or maybe make new friends at the 35-foot long bar equipped with 19 built-in video gaming terminals is entirely up to you. But one thing is for certain.
Multiple betting windows to take your action and cash your winning tickets, a clear view of any game you want to watch, and waitress service to deliver your food and beverage orders from an upscale menu to wherever you are sitting.
Moneyline easily seats over 100 players
When I asked the manager on duty how many people the room could accommodate, he replied: "up to 200." This may or may not be true since my count of the approximate number of seats added up to a smaller number. But don't worry about it. Using the following as a guideline, even if the total is closer to 100 seats than to 200, there is no doubt in my mind that Moneyline will be able to accommodate you and your party's needs.
How can you go wrong with a choice like this?
4 cushioned couches, each capable of seating about 6
2 armchairs around a circular table
2 low tables, each seating four guests
4 long high tables, each seating four guests
1 additional reserved long table for up to six guests
6 banquettes, each seating four guests
3 round high tables, each seating four guests
19 bar seats
If you're coming with a group, or have special needs, or are requesting VIP service, it is suggested that you call 1-609-317-7249 ahead of time for reservations.
Up to the minute updated sports information
At Moneyline, you're never left guessing about the latest odds, injury updates, or last minute lineup changes. A continuously updated moving sports ticker gives you all of this information and more in one quick glance. You can also follow the latest line changes on the betting board.
Printed betting sheets are available as well. But keep in mind that these are prepared in advance and may not reflect the latest odds.
Want to watch multiple games at once? At Moneyline, you can.
Once you have made your bets, there are many places at the Borgata Hotel Casino & Spa where you can go to watch the games. But if you're at Moneyline already, why go anywhere else when you can watch any games that interest you right on the premises?
Another big advantage of staying right where you are is that it will be very convenient in case you decide later to make an in-play bet or bet on another game.
Of course, you have the same options at the adjacent Race & Sports Book. However, some of the screens will be showing races rather than sports, which could be distracting if you're betting on sports exclusively. In addition, you're likely to find many seats already occupied by horseplayers.
During my July 11 mid-afternoon visit to Moneyline, I counted a total of 27 TVs showing different sports or sports-related programming.
On the high wall, there were 10 small screen TVs, 4 that were a little larger, and one that was huge.
On the lower wall, I counted 8 small screen TVs, 3 that were slightly larger, and again, only one that was huge.
Unfortunately, because most of the TVs are small, unless you sit at the bar, which probably provides the best viewing options, you may have to get up from your seat frequently or otherwise change your seat to be able to view the games that interest you close up.
Food and beverage options
One of my criticisms of the Borgata Race & Sports Book is that it doesn't offer any food. You either have to bring your own or go elsewhere to get something to eat, as anyone spending several hours in the sportsbook will certainly want to do. Moneyline corrects the problem, at least to some extent.
The Moneyline menu
However, rather than the type of food you might expect at a sports bar, the menu called The Play Book can be better described as upscale gastropub fare and is priced accordingly. Celebrity chef Tom Biglan created the menu.
The "Starting Line Up" includes items like jumbo Buffalo wings ($8), fried fish tacos ($10), or a giant Bavarian pretzel with beer cheese sauce ($7).
Or if you want something more substantial, you can order a panini, "Clutch Sandwich," 12-inch "Perfect Game Pie" (pizza), Moneyline burger, or "Slam Dunk Slider."
The cheapest items ($10 or less) are the sandwiches and sliders, with anything else averaging about $12.
All items except pizza come with Buttermilk Ranch Slaw and chips. I ordered the crab cake slider and found it quite tasty.
Lastly, if you want something sweet, the "Post-Game Show" gives you a choice of four desserts.
I ordered the "Signature Guinness Stout Chocolate Cake." It was delicious, but the piece was big enough for four people.
I wound up taking most of it home.
All of the desserts cost $7, except for the "Chocolate Smash Ball" (pound cake cubes with fruit, churros, and dipping sauces), which is listed as serving four and costs $35.
There is also a substantial drink menu, including more than 20 varieties of craft beer, wines by the glass, and signature cocktails. If you prefer a different beverage, simply ask.
No comps, but you can use comps you have earned from other play
As you can see, a full meal at Moneyline with a beverage can easily cost $30 or more. Therefore, it would be nice if your sports bets could contribute to your comp total. However, at Moneyline, just like at the Race & Sports Book, that is not the case. Moneyline will accept comp dollars you already have in your account at a 1-1 ratio.
Combine sports betting with high limit casino gambling at Level One
It's a bit of a walk back and forth between Moneyline and the main casino floor. However, those of you who would like to combine casino gambling with your sports betting have a couple of other options.
As mentioned, every seat at the Moneyline bar comes with its own video poker terminal. Or, if you play blackjack and can handle a $25 or higher table minimum, simply take the escalator connecting Moneyline to the new Level One Cocktail Bar & Lounge. When I stopped by on July 11, three of the four open blackjack tables had a $25 minimum and one had a $500 minimum.
While playing, you will be able to watch some of the games in progress on TV. You can also relax on a sofa or lounge chair and order drinks (by the glass or bottle) and food from Level One's own menu. It's similar to the Moneyline menu.
But watch out for the prices, especially on drinks, because it won't take much liquor at all to have you reeling. For example, a bottle of craft beer costs $8, a single shot costs $14, and a bottle of wine costs $200 and up. Level One opens at 5 p.m. nightly.
Alternative places to watch the games at the Borgata
Moneyline is open to anyone 21 years of age or older. While casual dress is fine and no minimum purchase is required, keep in mind that this is an upscale room catering to a sophisticated clientele. If you don't feel comfortable in this type of environment, you will feel like a fish out of water.
Also, while you are not obligated to order any food or beverages from your server, she will come around. Prices are not outrageous, but they are not cheap either.
If you are visiting the Borgata and would prefer to go somewhere other than Moneyline to watch your favorite sporting events, here are a few suggestions:
Drinks only
Race & Sports Book
B Bar: located on the casino floor in the center of the action and excitement. Play video poker if you wish while sipping a drink and watching your team in action.
Drinks and food
Long Bar: The Long Bar menu is not very different from that at Moneyline. Beer (depending on the variety) only costs $5-$7, but wines and specialty cocktails are more expensive (averaging about $12). Appetizers cost about $10 apiece while an order of pizza costs $12-$14. The bar opens at 2 p.m. on weekdays and 12 noon on Saturday and Sunday. Food is served until midnight.
Moneyline Bar and Book – Pros & Cons
I was very impressed with Moneyline and recommend it for any sports fan who can do without the boisterous crowds and wants to watch the games in comfort. However, for the true experience, I plan to return during football season and see how the service and game viewing compares then with many more people.
What is great about Moneyline
Here is a summary of what I consider this sportsbook's best features.
Extended hours
Moneyline is open daily from 10 a.m. to midnight, which is plenty of time to serve most bettors' needs.
Lots of betting options
Moneyline is a full-service sportsbook offering the same sports betting options as the Race & Sports Book next door and BorgataSports for online and mobile betting.
Ample time to cash winning tickets
As at the Race & Sports Book, you can cash your winning tickets at Moneyline as soon as the results of the game are official, as well as any time up to six months thereafter.
Friendly staff to serve you and assist you
Superior service is key to enjoying your stay in any sportsbook. While I do think the staff needs to be better trained to answer questions relating to betting, I was more than satisfied with the service otherwise.
What's not so great
However, as with all sportsbooks, certain things about Moneyline could be better.
Comps & bonus offers
This is my No. 1 complaint. Even though Moneyline accepts sports bets for as little as $5, I doubt that it attracts many $5 bettors. More likely, many of the patrons will be betting substantial sums of money, and they deserve to be comped for their action.
Special lines for top tier cardholders & large bettors
I asked whether there was a special express line set aside for bigger players and was told there is not. I think it would be a good idea to offer one, especially during the busy football season.
Borgata Sportsbooks & Moneyline – FAQ's
What can you bet on at the Borgata Sportsbooks?
As long as you are betting on sports rather than horses, the betting options at the two Borgata sportsbooks are identical.
The specific sports you can bet on vary with the season but generally include the following :
Football
Baseball
Basketball
Hockey
Soccer
Boxing
Tennis
Golf
Auto racing
Cricket
MMA
Rugby
All of these sports can be bet at the Borgata, as can special events such as the World Cup, important boxing matches, and major tennis tournaments such as Wimbledon and the U.S. Open.
Bets of all sizes are welcome
Another option–and you don't even have to wait for the season to start–is to bet on the winner of next year's NFL, NBA, and NHL titles. For example, Julius Erving, who was invited to place the very first sports bet at the Borgata on June 14, 2018, got the ball rolling with a $5 bet on the Eagles to repeat as Super Bowl champ at 8-1.
You read right: All he bet was $5. However, NJ Senate President Steve Sweeney, who was next in line, bet $200 on the Green Bay Packers (at 10-1) to win the 2019 Super Bowl.
If you have an opinion on which team will win next year's Super Bowl or the next MLB, NBA, NHL, or college football or basketball championship, the Borgata sportsbook will accept your advance wager, too.
At Borgata, the minimum bet is only $5. However, bets of all sizes are welcome. So whether you're a beginner just looking to have a few bucks riding on your favorite team or you wish to make a much more substantial wager, the Borgata Race & Sports Book is ready when you are to take your action.
What types of wagers can you make at the Borgata sportsbooks?
The Borgata sportsbooks cater to all different levels of players from beginners to seasoned bettors. So you can take your pick from a wide variety of betting options, including all of the following:
Point spread bets
Moneyline bets
Totals
Props
Live bets (games already in progress)
Parlays
Teasers
Future bets
How many games can you watch at one time?
All of the sports events that you can bet on at the Borgata you can also watch. That makes a visit to either of the Borgata sportsbooks almost as exciting as being at the stadium or arena where the game is being played, and probably with a better view of the action.
At the Race & Sports Book, between the video wall and bar area, I counted a total of no less than 24 screens, on which different games and races in progress were displayed. Four of the screens are huge. I found 27 TVs at Moneyline (all showing sports rather than races), but only two with huge screens.
Either room will work for players with action on multiple games who would like to watch all of them.
Can you bet on horses?
Moneyline does not take bets on horses, but the Race & Sports Book, just like the name implies, does. Not only can you bet on horses running at different tracks all over the country and watch the simulcasts–until another Atlantic City offers the same option–the Borgata Race & Sports Book is the only place in Atlantic City where you can!
How do you place a bet at the Borgata Sports Books?
As of this writing, you can place your bets either at the window or at specially designated kiosks.
At the Race & Sports Book, you will find separate windows clearly labeled either "Race" or "Sports." This is good thinking on the casino's part since it will allow the many players who just want to bet one or the other to be served more efficiently.
On my most recent visit, Thursday, July 11, 2019, in mid-afternoon, a total of 10 windows were open, seven for horse races and only three for sports.
This made sense since it was not only the opening day of the Saratoga summer racing season, but a busy day for racetracks all over the country. Obviously, during the fall football season, the room will need to open more windows for sports betting, particularly on weekends.
In general, the lines are short and move fast. However, there are exceptions. For example, starting at 12 noon every weekend during football season and shortly before a major race like the Kentucky Derby, when the room is packed, long lines are inevitable. So be sure to allow yourself extra time or, if possible, get your bet in early before the big rush.
Moneyline has six betting windows and a couple of kiosks. While this is plenty for the relatively slow summer season, it might not be enough once the fall football season starts.
Can you also bet sports online?
Yes. Borgata Sportsbook released an online version to go along with their Borgata Online Casino platform in order to complement the land-based sportsbook.
Borgata Online Sportsbook Bonus:
Receive a $100 bonus bet after an initial $20 bet
Use Borgata Bonus Code: PLAYNJ
Borgata Online Casino Bonus:
$20 Bonus On Sign Up
100% Up To $600 On Deposit
Use Borgata Bonus Code: PLAYNJ
On Tuesday, May 14, 2019, Borgata Hotel Casino & Spa, in partnership with GVC Holdings, launched BorgataSports, the casino's own online and mobile platform for sports betting.
BorgataSports represents the 14th online/mobile betting option to be launched in New Jersey. It gives this casino's players another viable alternative to go along with the Borgata Race & Sports Book and Moneyline in Atlantic City
All of the sports bets (but not horse racing bets) you can make at the Borgata Race & Sports Book or Moneyline Bar and Book can now be made at BorgataSports online or on your mobile device.
Borgata Sportsbook amenities
Both of the Borgata sportsbooks are completely nonsmoking. Both rooms also offer ample seating, many TVs for your viewing pleasure, and beverage service. However, the overall ambiance for the two rooms is quite different. Depending on your own personal tastes, you might prefer one over the other.
Race & Sports Book
The Borgata Race & Sports Book can seat up to 100 people. The seats are arranged in rows, stadium-style. However, each seat has its own table and flat screen monitor.
Or, if you prefer, you can watch multiple games or races simultaneously on the larger screens on the video wall or at the bar.
Moneyline
The seating capacity at Moneyline is even larger. Your options are a lot more varied, too, much more along the lines of what you would find in an upscale club than in most sportsbooks. See the previous section "All the room you need to bet and watch the day's games in comfort" for a detailed description.
Another big difference between the two sportsbooks is that Moneyline offers tableside food and beverage service. Moneyline also provides direct access to the Level 1 Lounge where, in addition to ordering food and drinks, sports bettors can play high limit blackjack.
The verdict
Both of the Borgata sportsbooks have a very nice layout, with plenty of space for those who don't want to just bet and run. Sports bettors who prefer hanging out and enjoying the action for a few hours can do so in comfort.